Iron Mountain Lake News is a newsletter dedicated to serving the community of Iron Mountain Lake and the surrounding area. Keeping the community informed and entertained, while also highlighting the history and beauty of the greater Iron Mountain Lake area.
WELCOME TO IRON MOUNTAIN LAKE NEWS
CITY of IRON MOUNTAIN LAKE
​CITY HALL BUSINESS HOURS
​
​​​Monday - Noon till 5:00 pm
​Tuesday - Noon till 5:00 pm
​Wednesday - Noon till 5:00 pm
​Thursday - Noon till 5:00 pm
​​​Friday​​​​ ​ - CLOSED
FOR YOUR INFORMATION
Board of Aldermen Meetings
Regularly Scheduled City Board Meetings are held on the second Monday of each month, 7pm, at City Hall.
Public is always welcome.
For more information call City Hall at (573) 734-2042
Park Board Meetings
The IML Parks Department meets on the second Thursday of each month at 6:00pm at City Hall.
The public is welcome! Come and share in the growth and progress of our beautiful parks and recreational opportunities.
​​Help Wanted
The City of Iron Mountain Lake often has need of Part-Time Employees. For more information contact City Hall, Monday through Thursday 12 noon till 5pm, at 574-734-2042. ​
IRON MOUNTAIN LAKE MUNICIPAL COURT
PRESIDING JUDGE, MICHAEL RANDAZZO
PROSECUTING ATTORNEY, JEREMY A. BRAUER

​The Iron Mountain Lake Municipal ​ Court is held at 9am on the last Friday of each month at 538 Gallatin Dr., Iron Mountain Lake, Missouri. For more information call City Hall, Monday through Thursday 12 noon till 5pm, at 573-734-2042.
​​HELP WANTED
The Iron Mountain Lake Police Department is accepting applications for Reserve Officers.
The City of Iron Mountain Lake
ATTN: Chief Anthony Benson
538 Gallatin Dr.
Iron Mountain Lake. Missouri 63624
For more information call City Hall at 573-734-2042

THINGS YOU SHOULD KNOW ABOUT

THE CITY OF IRON MOUNTAIN LAKE
There are a few things that you should know when visiting or planning to move to The City of Iron Mountain Lake.

​​IML has a Leash Law. Dogs must be leashed and not allowed to be at large.

There is a Boat Ramp use fee for non-residents.

There are limits on the number of fish that can be caught per day per person. This is a privately stocked Lake.

The large pavilion on the west side of the Lake can be reserved for your special occasion. Contact Sharon Hall at 573-734-8026 for more information.

ATVs are permitted on the streets of IML but they must be registered at City Hall and acquire a use permit. The use permit sticker must be predominately displayed on the registered ATV. Helmets, safety flags and insurance is required and ATVs must not travel more than 15mph, with no passengers, and obey all other traffic safety laws per Ordinance 2. Driving on City green spaces or its Park lands, except by expressed written permission by the City of Iron Mountain Lake, is prohibited.

Burn Permits are required and can be obtained, for free, at IML City Hall. Yard waste can be burned with a permit. The burning of trash, plastics, foam, rubber, wiring, treated lumber are strictly prohibited.

Inspections and Occupancy Permits are required when moving into any residence or rental property here at IML. Arrangements for inspections and permits can be obtained from IML City Hall.

Building Permits are required and can be obtained at City Hall. Inspections and an Occupancy Permit will be required before one may occupy a residence or rental property.

New and used Manufactured Homes (Mobile Homes) that meet the American National Standards Institute and the United States Department of Housing and Urban Development standards, with prior inspections on used homes, are allowed ONLY BY PERMIT, and with specific safety requirements required by the City of Iron Mountain Lake for condition and installation. Licensed haulers and installers are required and must also obtain a permit before any

Manufactured Home can enter the City limits. Permits, inspections and further information can be obtained and arranged through IML City Hall.

Modular Units and Prefabricated Units must obtain a permit and pass an Occupancy Permit inspection BEFORE it can be used as a weekender home, rental or residence. Inspections and Permits can be arranged and obtained though IML City Hall.
The best rule of thumb, if in doubt call City Hall and find out.
For more information please contact Iron Mountain Lake City Hall, Monday through Thursday 12 noon till 5pm, at 573-734-2042.
We are upgrading the site and several of the pages will be under construction. We thank you for your patience.
Iron Mountain Lake News
For the most up-to-date news and stories visit our Iron Mountain Lake News Facebook page.... HERE
Iron Mountain Lake News
Published January 28, 2018· 11:31am
CAN THE POLICE, AMBULANCE OR FIRE DEPARTMENT LOCATE YOU IN THE EVENT OF AN EMERGENCY?
You have called for emergency services, but they may not be able to find you. It may be because your Physical 911 Address is not clearly posted.
It is required that your Physical 911 Address be clearly posted so that Police, Fire and Ambulance Services can quickly and efficiently locate you and your home, because in the event of an emergency every second counts.
Below are guidelines for posting your 911 Physical Address.
If you have questions or do not know your Physical 911 Address contact the St Francois County Addressing Clerk at 573-431-7842.
HOW TO POST YOUR PHYSICAL 911 ADDRESS
1.Your Physical 911 Address must be posted on your home, facing street side, with large 3 inch reflective numbers that are visible from the street, especially at night.
2.If your home is a distance from the road, 50 or more feet, then you must post a sign at the beginning of your driveway, street side, with the physical address posted in 3 inch reflective numbers. The numbers posted must be free from obstructions and be legible even in deep snow.
3.Your Physical 911 Address must also be on both sides of your mailbox.
FREQUENTLY ASKED QUESTIONS
☆What is a 911 Address?
It is the physical address where you live.
☆Why do I need a physical 911 Address?
For emergencies such as fire, ambulance, and police.
For older residences and buildings your Mailing Address may differ from your Physical 911 Address. In the case of a newly constructed building or home your Mailing Address and 911 Address may be, in most cases, one and the same.
Any structure that is occupied, even weekend homes, must have a Physical 911 Address posted. This is for emergencies, whether you're there or not, it may be for a medical emergency or incident occurring on the street in front of your home, for the protection of your property possibly due to a prowler spotted or a fire located at or near your home. Emergency responders look for the 911 address to quicken their response time. Every second counts!
☆How do I get my 911 address?
If you need a new address for a new structure, call the 911 Addressing Clerk's office and have the lot information and also have the most accurate information on streets and the location of your driveway. It is also helpful to have your nearest neighbor's address and possibly their name. Even if you're out of state, with good information on your lot location the 911 Addressing Clerk can usually assist you over the phone.
If you're moving into a house that already has an address, and even though you believe that you know what the address is, you need to call the 911 Addressing Clerk's office to make sure that your information is current.
☆How can I be sure that my physical 911 address is correct?
Often times Postal and Physical 911 Addresses differ in rural areas due to the fact that the 911 mapping system came much later than the U. S. Postal Service with it's rural routes. Call the 911 Addressing Clerk's office to ensure that you have the correct Physical 911 Address in order to have that correct information displayed on your home, mailbox or driveway marker. It is important to contact them to ensure that 911 dispatchers have the correct information in case of an emergency.
For more information contact:
St. Francois County 911
102 Industrial Dr, Park Hills, MO 63601
Website: http://sfcsgc911.weebly.com
911 Addressing Clerk - Tina Montgomery at 573-431-7842 or Fax 573-431-4110 or by email at tmontgomery@sfc911.net
Tuesday- Friday 9am-430pm
.
Iron Mountain Lake News
Published · January 25, 2018 at 2:00pm ·
JUST A FRIENDLY REMINDER
PURCHASE YOUR FIRE TAGS NOW
PURCHASE FIRE TAGS AT
THE LOCATIONS LISTED BELOW
Reminder that Fire Tags for 2018 are now available for purchase. Fire tags are $55.00 until February 1st 2018. After then they will be $65.00. You may purchase fire tags at any of the following locations:
Bismarck Fire Station
PLS
RG's Wedge
Shy's Feed
You may also mail in your payment to the following address:
Bismarck Fire Department
P.O. Box 128
Bismarck, MO 63624
Please be sure to include your name, the address the fire tag is for, a mailing address, and a phone number. If you have any questions you may contact the Fire Station at (573) 734-2557 or the Fire Chief, John Colwell, at (573) 315-8718.
Iron Mountain Lake News
Published · January 25, 2018 at 4:20pm ·
IML MUNICIPAL COURT
WILL BE HELD AS SCHEDULED
FRIDAY, JANUARY 26TH, 9AM
IRON MOUNTAIN LAKE CITY HALL
538 GALLATIN DR.
Iron Mountain Lake Municipal Court will be held tomorrow, Friday, January 26th as scheduled. Court will begin promptly at 9am with the reading of the docket. Judge Randazzo requests that everyone be timely and present at the time that the docket is read. Those who are not timely could be sited with additional penalties and with the possibly of warrants being issued.
LOCAL AREA SHOPPING, GROCERY ADS,
ONLINE SERVICES AND BUSINESSES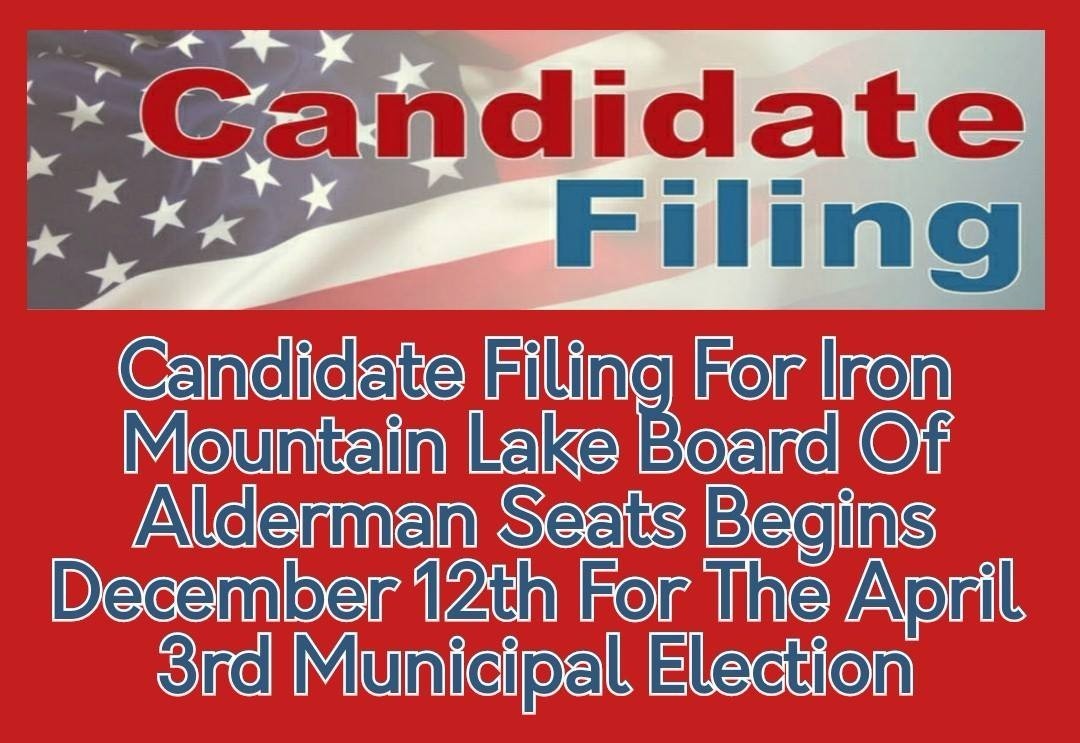 Iron Mountain Lake News
Published: December 11, 2017
JUST A REMINDER
FILING FOR IRON MOUNTAIN LAKE
BOARD OF ALDERMAN SEATS
AND MAYOR
BEGINS DECEMBER 12 AT 8AM
The first day to Declare Candidacy is December 12th, 2017 at Iron Mountain Lake City Hall. City Hall will open it's doors at 8am and will accept everyone in order they arrived till 4pm. The last day to Declare Candidacy will be January 16th, 2018 for the April 3rd, 2018 Municipal Election.The Mayor's seat is up for election as well as seats in each Ward will be contested.
Iron Mountain Lake News
Published · January 29, 2018 at 12:05pm ·
FYI....
2018 BURN PERMITS ARE AVAILABLE
AT IRON MOUNTAIN LAKE CITY HALL For Your Information.... A Burn Permit is required before you can burn anything within the City Limits of Iron Mountain Lake. The burn permit is free and can be obtained from City Hall during regular business hours. The permit is an annual permit and good from January 1st till December 31st of the year it was issued. The permit provides important information and instructions on what is allowed to be burnt along with vital safety precautions that must be adhered to. You can obtain your 2018 Burn Permit at Iron Mountain Lake City Hall Monday through Thursday, 12 noon till 5pm. For more information call 573-734-2042, Julie Pearson, IML City Hall.